Technology Changing the World – Chery Heavy Industry Debuts at BICES 2011
Release Date:2011-10-19 enlarge shrink
October 10~18, the 11th Beijing International Construction Machinery Exhibition & Seminar was held at Beijing. As the most eye-catching fresher in the construction machinery industry, Chery Heavy Industry debuted at the expo with more than 20 new products, including 5 excavators, one mining truck, and 14 advanced forklift trucks. Lots of visitors visited Chery booth.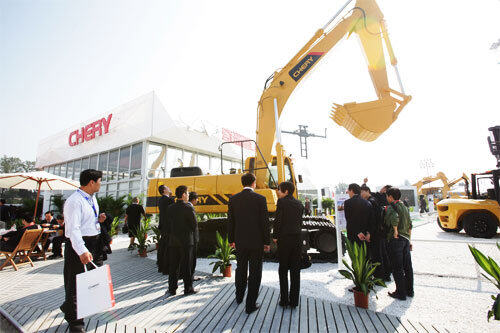 All the products represent the advanced technical level of construction machinery in China, and some reaches internationally advanced level. Chery excavators feature high added value and high technological level. The products will be launched into market at 2012 and distributed to the whole world in 2013. Chery also launches the new mining truck QRZ48, which is the leading new products in the market. Forklift truck is the first kind of construction machinery that Chery manufactures, and the company has set up 150 marketing service outlets in China.
With the enterprise mission "technology changing the world", Chery Heavy Industry insists on technological innovation to establish the independent brand of China through integrating global resources. And the company plans to grow into a world-class machinery brand in 5~10 years.