Experiencing the Charm of Intelligent Manufacturing of Domestic High-end Agricultural Machinery and Tools Enterprises in Longfeng
Release Date:2022-07-05 enlarge shrink
  Zhengzhou Longfeng agricultural machinery equipment manufacturing co., LTD. on June 26, 2022, in Shangjie district, Zhengzhou, Henan province central China, including more than 100 distributors and users on behalf of more than 40 degrees Celsius heat, high-spirited with personnel to visit the factory and the interpretation and hydraulic flip plow, power-driven rake, main agricultural products such as electric drill.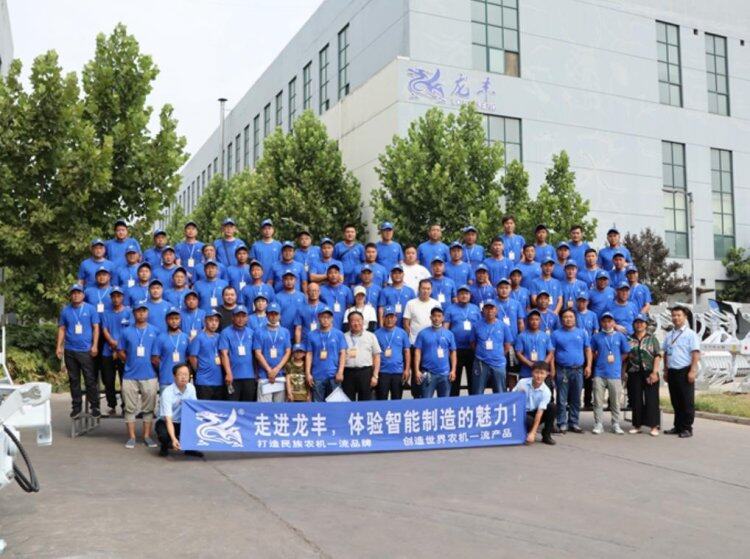 Longfeng, a professional company which is researching and producting large hydraulic plough, established in 1993, has a history of nearly 30 years. Due to vast territory and abundant resources, the cultivation demand of land is also very scattered, the main market of the large hydraulic tilting plough is concentrated in large plots such as Xinjiang, Inner Mongolia, northeast China and other regions. After more than 20 years of development, production of Longfeng greatly outlawed the import of high-end plow market with the same product quality but only one-third of the price, has become the domestic large hydraulic tilting plow leading enterprise.
    It is reported that this activity mainly for dealers and users in Henan Province. Regarding the event, Wang Qiang, General manager of Longfeng, said: "With the upgrading of land farming demand in central Plains in the past two years, the retention of the tractors large horsepower has also been further improved, and our products has gradually been recognized by users in central Plains. To this end, we are holding this activity for dealers this year, to let local folks see how Longfeng's intelligent production workshop produces high-end products without importing hydraulic tilting plows."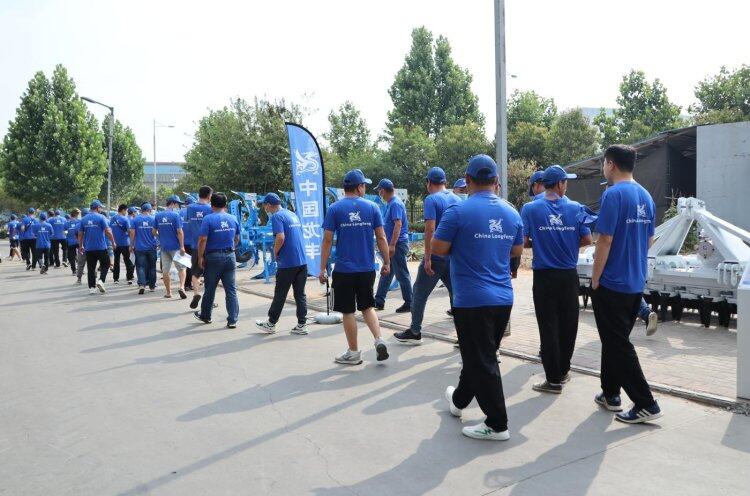 Walking in Longfeng intelligent production workshop,many high-end processing equipment came into sight, such as laser cutting machines, heat treatment equipment, CNC processing machines, large processing center, machining equipment, electrostatic spraying and robots welding, so that the site dealers and users were eye-opening. "To be honest, when I visited plough factories in China, they were mostly processing workshops, just simple cutting and assembly. I didn't expect Longfeng, as a domestic machine and tools manufacturer, to purchase so many high-end processing equipment, including heat treatment equipment and robot welding, which I have never seen before. This also explains why Longfeng hydraulic tilting plough can beat the imported brands and become the most popular domestic hydraulic tilting plough products." said a dealer from Henan Luohe.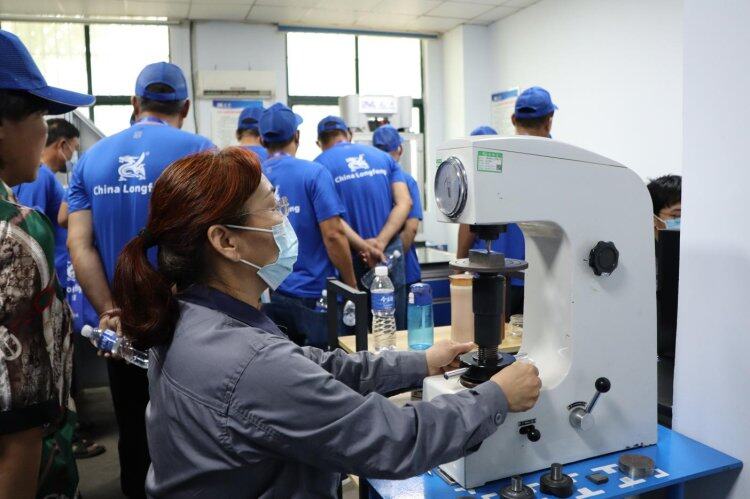 In addition to advanced production equipment, Longfeng also spent more than 5 million yuan to build a high-end laboratory. The inspection equipment includes 3D scanner, direct reading spectrometer, impact testing machine, automatic impact sample notching machine, impact notching projector, universal testing machine, metallographic microscope and other full set of inspection equipment. And it is through the data of high-end laboratory, Longfeng has already pulled the quality of the bottom plow up a step again, the failure rate is lower!
    Whether it is advanced manufacturing equipment or high-end laboratory, Longfeng's high investment is to reduce the failure rate of products. Referring to the quality reliability, a user from Xuchang expressed his recognition of Longfeng hydraulic tilting plough with personal experience. "I have been using longfeng hydraulic tilting plough for more than two years, and what I like most about it is that the product quality is very reliable. My first Longfeng plough has been used for more than 2 years, and has been turned over for more than 20,000 mu. Besides normal wear and tear, I have replaced the tip of the plough without any quality problems. So this year I plan to buy two longfeng plows, expand their own deep turning operation team!"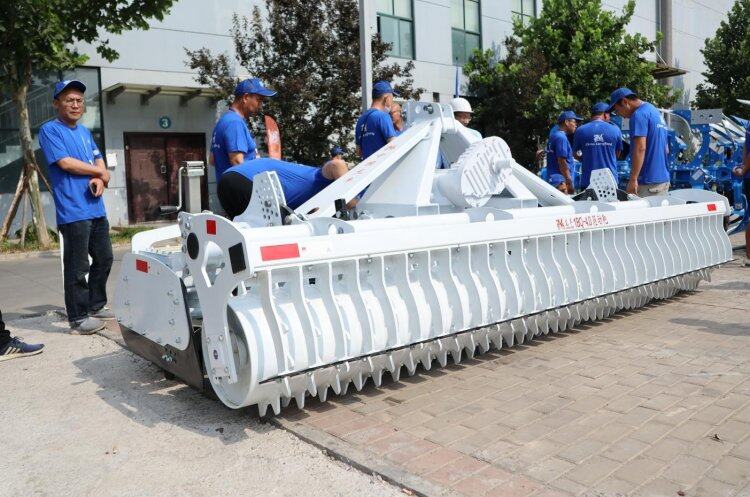 In addition to hydraulic tilting plough, the power driven harrow developed by Longfeng in the past two years has also been introduced to the market this year, adhering to the concept of the same quality as international high-end brands, and quickly won the recognition of many users. In the product display area, a silver-white electric no-till planter also attracted many visitors. It is reported that Longfeng electric seeder products have experienced user research, product benchmarking, prototype production, field testing, field testing, improvement and optimization and other processes, product quality and sowing accuracy have achieved excellent results, is about to enter the link of mass production on the market.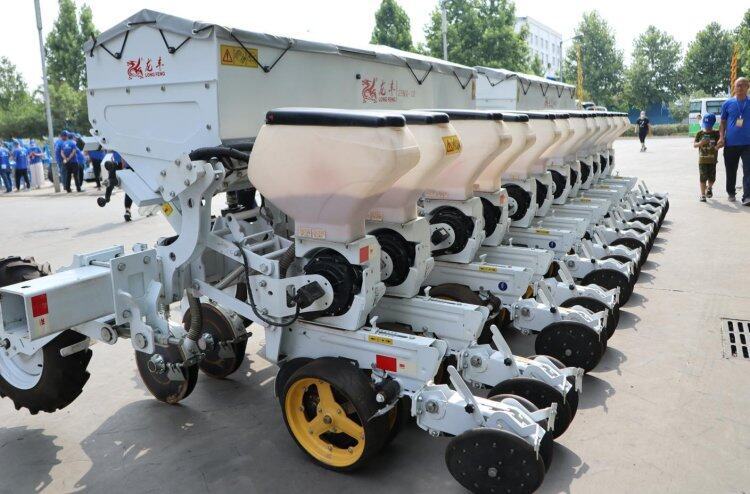 Through this longfeng factory day activity, dealers and users in central Plains have a more profound understanding of Longfeng's high-end agricultural machinery and tools products, and feel that China also has the same brand comparable to the international high-end agricultural machinery and tools products. At the same time, it also means that Longfeng will accelerate the layout in the central Plains and other small plots of agricultural machinery market, accelerate the realization of the enterprise vision of "creating a first-class brand of national agricultural machinery, creating first-class products of agricultural machinery in the world".