Wu Jianqiang: I Choose Xisen Tiancheng Because I Know It can Solve the Problem of Potato Harvest
Release Date:2022-08-04 enlarge shrink
  When it comes to potato, most people have the impression that the main production areas are in Inner Mongolia, Yunnan and other regions. However, in late July, the author witnessed a shocking scene of mechanized potato harvesting over 2,000 mu in Weishanzhuang town, Daxing District, Beijing. It IS reported that in order to improve the economic benefits of agricultural production, Wei Shanzhuang town in recent years to actively adjust the planting structure, develop agricultural sales market, explore planting potatoes, has achieved good social and economic benefits.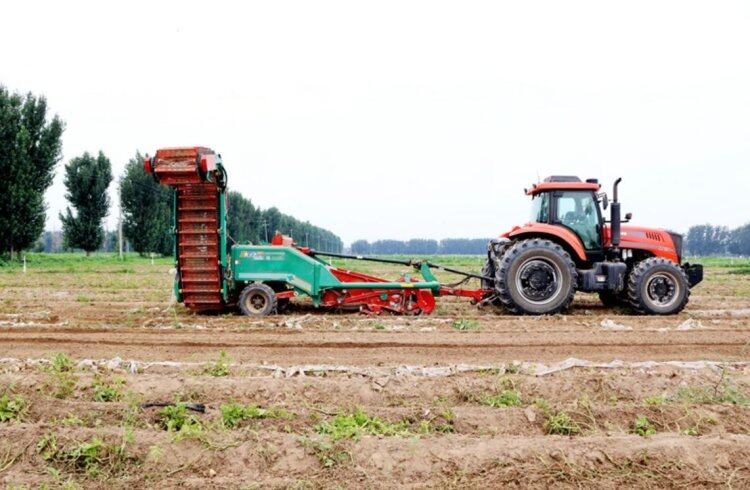 During the whole mechanized potato harvesting process in Weishanzhuang Town, Xisen Tiancheng 4ULZ-170 combined potato harvester performed very well. "In the past, potatoes are first used to dig out the potatoes with digging equipment, and then rely on manual pick up, not only consume a lot of manpower, potato harvest cost is also high. Now with Xisen Tiancheng potato combined harvester, a single operation can realize potato digging, soil removal, seedling removal, collection and transportation and other links of operations, and compared with the traditional stage of harvest, the operation efficiency can be increased by dozens of times, greatly improving the operation efficiency, greatly reducing labor costs." "Said Wu Jianqiang, general manager of Inner Mongolia Jifang Modern Agricultural Service Co., which is in charge of the potato harvest.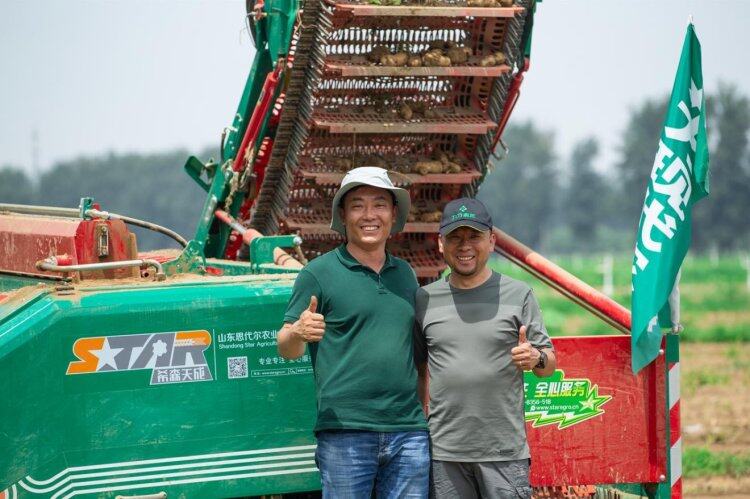 Yang Xiaoguang, deputy general manager of Xisen Tiancheng (left) and Wu Jianqiang, general manager of Jiufang Hyundai (right)
    To this, Xisen Tiancheng deputy general manager Yang Xiaoguang has a deep feeling. "We've been in the potato business for more than 10 years. Ten years ago, we knew this wave of potato pickers. Ten years later, it's still this wave. Never mind how expensive it is to pick potatoes by hand, the point is that no one will ever do it again. So we at Sisen Tiancheng have been developing potato combined harvester products since a few years ago to solve the problem of potato harvesting."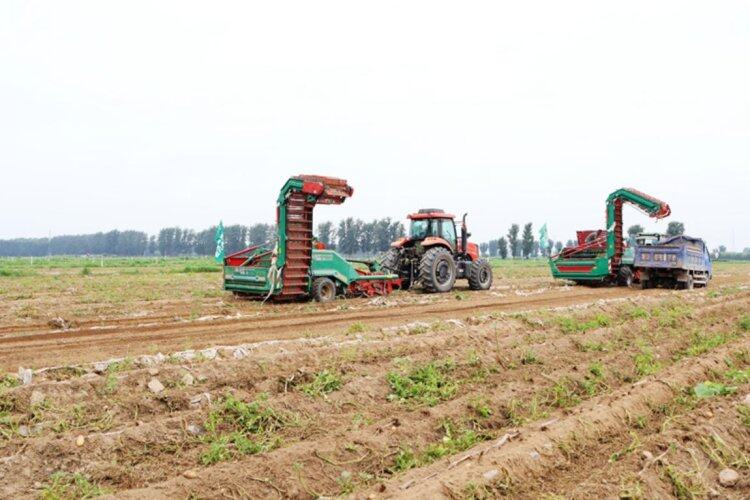 There are four Xisen Tiancheng 4ULZ-170 combined potato harvesters operating at the same time in the whole mechanized potato harvesting project in Weishanzhuang town. Wu Jianqiang spoke highly of the performance of Xisen Tiancheng potato combined harvester. "The combined potato harvester from Sissen is not only very efficient, but also very reliable in quality. At present, we have been working for a whole week, working from 4 a.m. to 8 p.m. every day for 16 consecutive hours, and the equipment is in a very stable state. And the quality of the harvested potatoes is also very good, Party A is particularly satisfied."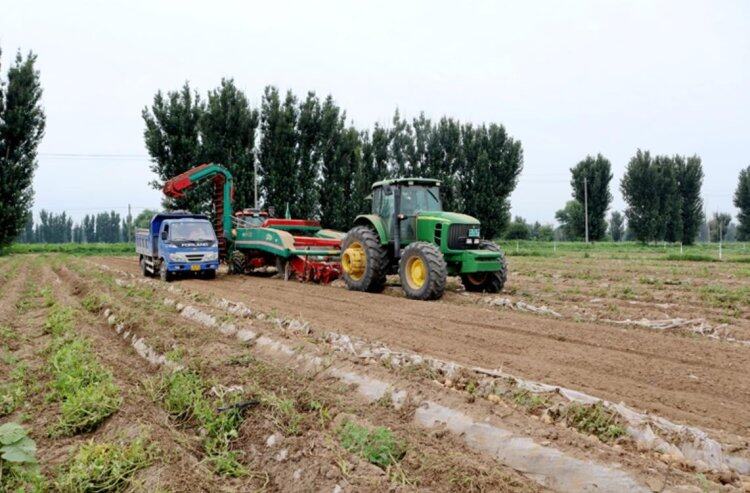 It is reported that nine modern agricultural service in the transformation into a agricultural service company, mainly engaged in potato import equipment agency business. Therefore, Wu Jianqiang is very familiar with domestic and global potato equipment. When it comes to the cooperation with Xisen Tiancheng, Wu Jianqiang said he was more interested in Xisen Tiancheng's professionalism and attitude. "We have known Xisen Tiancheng for a long time. They have done a lot of market research in the early stage of product research and development, and they have also had a lot of communication and discussion with us, so I am very familiar with them. They do potato equipment attitude is very serious, has a very professional R & D team, has a strong technical problem-solving ability, but also accumulated a lot of professional technology, so we have been choosing to cooperate with them after the transformation of agricultural clothing in 2017."
    In addition to the project cooperation with agricultural service companies, Sisen Tiancheng potato harvesters are also very suitable for end-users to purchase. "The country's potato cultivation area is as high as 70 million mu, which is beyond the reach of agricultural service companies," Yang explained. So, if the end user or the big farmer is willing to do it, we, as a factory, have the right potato equipment. In addition, when we sell equipment for end users, we will also provide them with supporting facilities, good training and after-sales service, so that they can easily engage in mechanized potato harvesting services, so as to obtain a good profit.