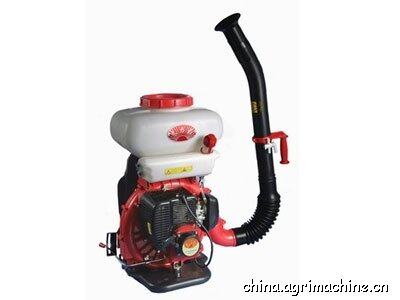 Beijing Fengmao Dongfanghong 3WB-15X Knapsack Power Sprayer
Main technical data:
Tank capacity: 15
Net weight:≤10.5Kg
Rated power: 1.18/5000kw/rpm/min
Power model: 1E40F
Horizontal range:≥10m
Vertical range:≥8m
Main features:
1. As air-pressure type of liquid transfer is adopted, the equipment abandons the failure-prone construction of mechanical filling device, mixing device and pump. The equipment has the advantages of simple construction, reliable operation and easy maintenance.
2. Most of the parts of the equipment are plastic, especially for the frame, which adopts the blow-molding construction, thus it provides users a light weight, corrosion-resisting and confortable feeling machinery.
3. Larger size on the lower part of equipment, which provides a low center of gravity and good stability.
4. Tiny drips would cover both sides of leaves with chemicals by the force of air.
5. Larger tank capacity, which reduces liquid filling repetition.