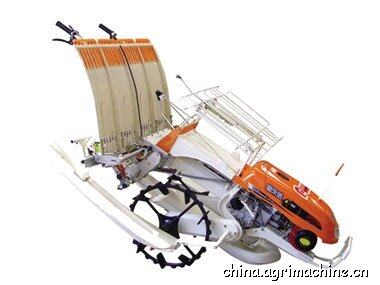 FLW 2Z-455 rice transplanter is the result of our company cooperative development with Agriculture Machinery Scientific Research Institute. It is a new generation and owning high performance rice transplanter.
By transplanting producing test of different soil and different using environmental paddy field, it began to put into production in 2001 and arrives advanced standard in nation. This product has wan the First Prize of Scientific Technology Advancement of Nan tong city in 2006.
It has two national patents, one is utility model and the other is design. Otherwise, it also has the authentication license of Agricultural Machinery Popularization, which is issued by Ministry of Agriculture and Agricultural Machinery Bureau of Jiangsu Province. FLW rice transplanter from 2005 to 2010has been selected into National General Agricultural Machinery Purchasing Allowance Catalogue continually.
The product has been widely used in more than ten rice producing areas, such as Heilong Jiang , Jiangsu, Hubei, Hunan, Guizhou, Jiangxi, Fujian, Anhui, Zhejiang, Jilin, etc. At the same time ,it is exported to South-east Asia, so now FLW 2Z-455 rice transplanter is a well-known brand which made in China.
FLW 2Z-455 Rice-Transplanter Product characteristics
Strong power
High yield cultivation
Seedling distance adjustable
Hydraulic copying
Seedling transmission trustiness
Independent brand
Government subsidy
Good service
Technical parameters
type
2Z-455
structural type
Two wheels three floating plates type
walking-wheel structural type
rubber tire needle driving wheel
diameter of walking wheel (mm)
φ612
Work-part structural type
crank rocker type
profile size (length×width×height)(mm)
2460×1480×860
total weight of the whole machine (kg)
175
Matching power
type, name
93400 type four-stroke gasoline engine
Output power(kW)/rpm(r/min)
2.57/3600
variable speed
forewords two gears, backwards one gear
capability
(hm2/h) productivity (hm2/h)
0.10-0.23
(m/s) work speed (m/s)(slipping rate 12%)
0.30-0.97
(mm)transplanting depth (mm)
0-46 (adjustable)
Planting density
work lines (line)
4
(mm) line distance of transplanting seedling (mm)
300
Hill number of transplanting seedling (each 3.3m2)
70(45)*
80(50)*
90(60)*
Seedl