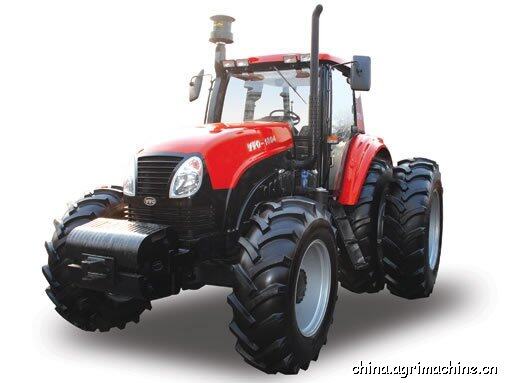 YTO X1804 Wheeled Tractor
YTO is a wheeled tractor manufacturer in China. Over the past decades, we have gained much experience in designing and manufacturing agriculture machinery and construction equipment. This enables us to provide quality 160-180HP wheeled tractor to satisfy global customers' needs.
Features
Based on European and American technologies, the diesel engine is powerful and fuel efficient.
Our wheeled tractor can supply sufficient tractive force to move large implements.
Multiple transmission gears, wide speed range, high operating efficiency
Hydraulic steering together with small turning radius makes our wheeled tractor maneuverable and flexible in steering.
The use of hydraulic braking ensures reliable braking and high safety.
Due to its large fuel tank, YTO tractor can operate continuously over a long period of time.
Electro-hydraulic control of differential lock results in effortless operation.
Dual rear wheel configuration is optional.
YTO X1604、X1804 Wheeled Tractor Specifications
Model
1604
1804
Tractor
Type
4×4
Overall dimensions (LxWxH)(mm)
5285×2696×2945
5285×2696×2960
Wheelbase(mm)
2848
Min. ground clearance(mm)
459
495
Min. operating mass(Kg)
6740
6880
Tyre spec., front /rear
14.9-28/18.4-38
16.9-28/20.8-38
Wheel tread, front/rear
1680-2176/1620-2200
Gear shift, forward/backward
12/4
Speed range (Km/h), forward/backward
2.25-29.06/4.25-11.47
2.35-30.39/4.44-11.99
PTO power (Kw)
106
118
Lifting force(KN)
36
Diesel engine
Model
SC8D190.1G2
SC8D215G2
Type
Six cylinder, vertical, water cooled, four stroke, direct injection, turbocharged
Displacement (L)
8.27
Rated power/speed(Kw)/(r/min)
117.6/2200
132.3/2200