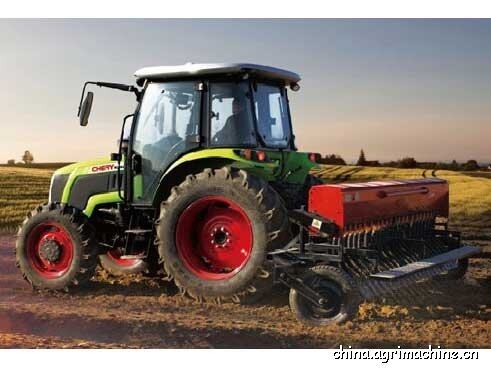 Chery RC954 Tractor Product
●Equipped with the domestically famous engine CHINA II, featuring high quality, powerful dynamics, high reliability and high coefficient of torque reserve.
●Transmission gears 8F+4R, optional reversing device 8F+8R or 16F+8R, optional creeper 16F+8R, featuring reasonable speed-matching, high working efficiency, and good fuel economy.
●Equipped with the side operation control device and the shift sleeve device, featuring convenient, comfortable, and reliable control.
●Equipped with independently-operated double-acting clutch, featuring reliable performance.
●Reinforced dual-speed power take-off, featuring the wide range of optional machinery and tools and high reliability.
●Equipped with double-cylinder pusher-type lifter, featuring big lifting force, which is suitable for matching the large-sized machinery and tools for the farmland operation.
●The hydraulic service brake system and handle-operated parking brake system, featuring safety and reliability.
●The complete vehicle adopts the optimized ergonomic design to improve the driver's safety feeling, and the comfort to control.
●The enlosed air-conditioned driver's cab can be optionally equipped with the warmer, fan and audio systems, featuring high safety and comfort of driving.
●A new generation of streamline hood, with beautiful and elegant appearance, conforming to the safety, dust-proof, noise-reduction, heat-removal and other performance requirements.
Chery RC954 Tractor Features Technical Parameters
Model
RC954
Type
4×4 Four-wheel-drive
Max. traction force (kN)
26.9
Power of PTO shaft (kW)
59.5
Max. lifting force (kN)
≥16
Overall
L
4382 (with front counterweight)
dimensions (mm)
W
2083
 
H
2810
Wheelbase(mm)
2195
Track, front wheel(mm)
1600
Track, rear wheel(mm)
1616
Min. ground clearance (mm)
415
Nominal engine power (kw)
70
Rated engine speed (r/min)
2300
PTO shaft (mm)
760/850 optional 540/1000, 760/1000