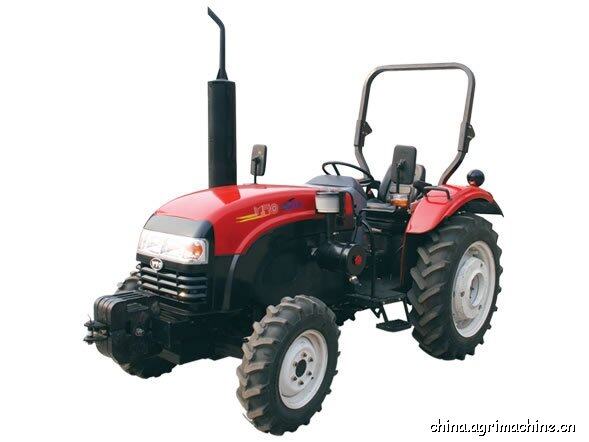 40-55HP Wheeled Tractor
As a specialized wheeled tractor manufacturer in China, we offer customers a wide range of 40-55HP wheeled tractors. Our tractors adopt a unique frame style cab which can be equipped with an air conditioning system so as to provide a high level of comfort for drivers. In addition, the use of integral floor board replaces many parts with one and results in a clean and seamless appearance. Furthermore, our wheeled tractor, which can be equipped with a loading device on the front and digging device on the back, is versatile and can be used in many applications.
Features
YTO engine delivers high fuel efficiency, generates low emissions, and is eco friendly.
Reliable disc brake and OECD anti-turnover bar help ensure the operator safety.
Tractor awning is optional for high driving comfort.
Stepless adjustment of rear wheel tread makes the operation simpler.
Special tires for use on grassland farms are also available, thus making our wheel loaders better suit customers' requirements.
40-55HP Wheeled Tractor Specifications
Model
YTO-404
YTO-454
Diesel engine
Model
C490BT-8
A495BT-5
Type
Four cylinder, vertical, water cooled, four stroke, direct injection combustion
Displacement (L)
2.54
2.98
Rated power/speed(Kw)/(r/min)
29.4/2400
33.1/2300
Max. torque (N.m)/speed (r/min)
158/1680
169/1725
Bore x stroke (mm)
90x105
95x105
Transmission
Gear shift, forward/backward
8/4
8/4
Speed range (Km/h), forward/backward
2.37~31.06/3.52~10.74
2.47~32.38/3.66~11.18
PTO power (Kw)
26.5
29.5
PTO rotation speed(r/min)
540/720 or 540/1000
Clutch
10-inch, dry, double action
Implement
Three-point linkage category
Rear three-point linkageⅠ
Tilling depth control mode
Combined draft, position control and floating control
Lifting force(KN)
6.6
8
Options
Cab
Frame construction, streamlined shape, with fan
Transmission with shuttle-type gear
4x2x2
Transmission with creeper gear
4x(2+1)x2
Luxury integral panel
All-in-one instrument panel, glass guard plate
Hydraulic output
1 or 2 group
Adjustment mode, rear wheel
Stepless adjustment
Dimensions, mass, drive
Drive type
4x4
4x4
Overall dimensions (LxWxH)(mm)
3727x1630x2375
3742x1640x2405
Wheelbase(mm)
1965
1970
Min. ground clearance(mm)
270
350
Min. operating mass(with safety stand)(Kg)
1990
2070
Tyre spec., front /rear
7.5-16/11.2-28
8.3-20/12.4-28
Wheel tread, front/re