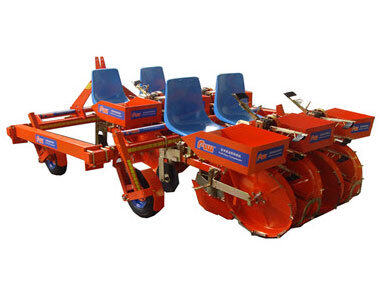 FLW 2ZQ Rape Transplanter Product characteristics
The structure is simple, the usage and the service is convenience
production efficiency is high, the labor intensity is low, not injury the seedling, the rice seedling erectness is good, survival rate is high.
All seedling can realize transplant.
Uses the special furrow opener, enhances nutrient for seedlings rate and survival rate
It can realize the functions of digging, trans planting, planting, pressing, watering and fertilizing, etc.
Many lines transplant, the row spacing can adjust independent.
The type of hanging structure is unit hangs, the number of transplant lines can be possible to increase or reduce.
Technical parameters
| | |
| --- | --- |
| Matching main engine | tractor (about 50Ps) |
| Size(L×W×H) | 1580*2240*1180 mm |
| Number of rows(row) ×working breadth(m) | 2-4(row))×0.8-1.6 |
| The row spacing(mm): | About 400, adjust |
| Seedling distance(cm): | 23-80,12 gears adjust |
| Transplant depth(mm): | 40-100 |
| Nutrient for seedling rate(%): | ≥95 |
| Survival rate(%): | ≥90 |
| The quantity to irrigate(mL/hole) | 0-120,adjust |
| Fertilization quantity(kg/hm2): | 0-180,adjust |
| productivity (hm2 /h): | 0.1-0.16 |
| Working reliability(%): | ≥90 |
| Operation population(human): | 3-5 |