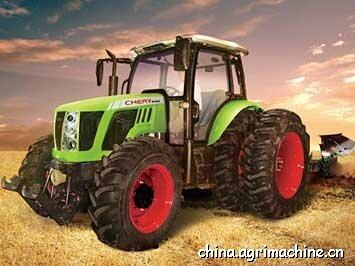 Chery G1554 Tractor Product Features
1. Equipped with England Perkins turbocharging engine of EuroⅢstandards, and the famous engines of Yuchai and Deutz are also alternative.
2. With 48F+16R transmission gears, it features reasonably matched speed, high work efficiency, and good fuel economy.
3. It adopts electro-hydraulic controlled double-speed power output, featuring large output power and high reliability.
4. It adopts electro-hydraulic depth control system for accurate control of work load, which effectively improves engine's working condition and the fuel economy and work quality.
5. It adopts 5 groups of hydraulic output.
6. The ergonomics design improves safety and operating comfortableness.
7. The new generation streamline cover looks beautiful, and it also meets the requirements for safely, dustproof, noise reduction and heat dissipation.
Optional Device:The pneumatic brake device meets the transportation and other work requirements.
Chery G1554 Tractor Technical Parameters
Model
G1554
Type
4×4 4WD
Max.traction force (kN)
38.4
Output shaft power(kW)
97
Max.lifting force (kN)
≥32
Dimension (mm)
Length
4400
Width
3390
Height
2720
Axle base (mm)
2270
Front wheel track (mm)
1920
Rear wheel track (mm)
2300(Double rear wheel)
EngineRated power (kW)
114
Output shaft speed (r/min)
540/1000
Gears
48F+16R