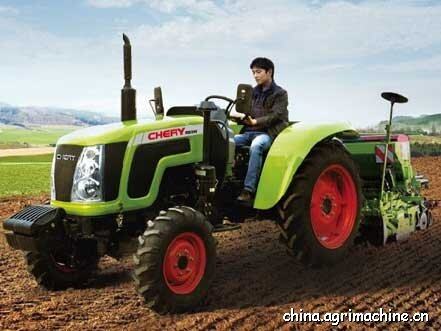 Chery RD354-B Tractor Product Features
●Equipped with the domestically famous engine CHINA II , featuring high quality, powerful dynamics, high reliability and high coefficient of torque reserve.
●ransmission gears 8F+2R, optional reversing device 8F+8R,featuring reasonable speed-matching, high working efficiency, and good fuel economy.
●Reinforced dual-speed power take-off, the shift sleeve,featuring the wide range of optional machinery and tools and high reliability.
●Equipped with the imported front drive axle, featuring high reliability.
●Equipped with the external distributor hydraulic lifter, featuring convenience to use and maintain.
●Full-hydraulic steering system, with easy and flexible control.
●The complete vehicle adopts the optimized ergonomic design to improve the driver's safety feeling, and the comfort to control.
●A new generation of streamline hood, with beautiful and elegant appearance, conforming to the safety, dust-proof, noise-reduction, heat-removal and other performance requirements.
Chery RD354-B Tractor Technical Parameters
Model
RD354-B
Type
4×4 Four-wheel-drive
Max. traction force (kN)
9.6
Power of PTO shaft (kW)
22.4
Max. lifting force (kN)
5.8
Overall
L
3350
dimensions (mm)
W
1525
 
H
2250
Wheelbase (mm)
1775
Track, front wheel (mm)
1040/1160/1230
Track, rear wheel (mm)
960-1460
Min. ground clearance (mm)
315
Nominal engine power (kW)
25.7
Nominal engine power (r/min)
2300
PTO shaft (r/min)
Non-standalone type, 540/1000