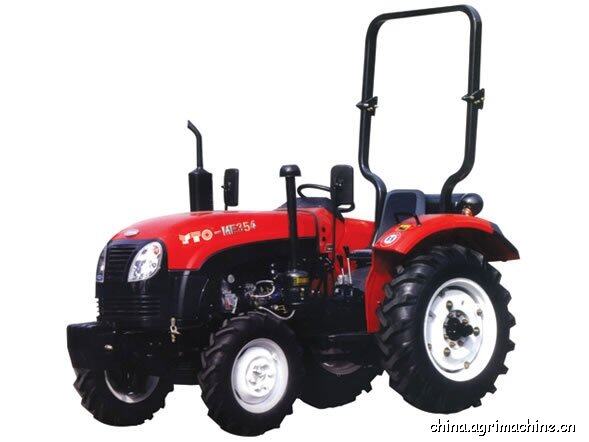 30-35HP Wheeled Tractor
The product shown in the picture is YTO 30-35HP wheeled tractor. As you can see, the design of this product is streamlined. Due to its compact size and easy operation, users can have the best experience in using this wheeled tractor.
Features
The utilization of disc brake ensures reliable braking performance.
OECD anti-turnover bar is adopted for great safety.
Tractor awning is available upon request.
9-inch dry single or double action clutch is used.
This wheeled tractor is applicable to both paddy fields and dry farmlands.
30-35HP Wheeled Tractor Specifications
Model
YTO-ME300
YTO-ME350
Diesel engine
Model
ZN390T
SL3100ABT-2
Type
Three cylinder, vertical, water cooled, four stroke
Displacement (L)
1.81
2.47
Rated power/speed(Kw)/(r/min)
22.1/2350
25.7/2200
Max. torque (N.m)/speed (r/min)
105.5/1760
122.7/1650
Bore x stroke (mm)
90x95
100x105
Transmission
Gear shift, forward/backward
8/4
8/4
Speed range (Km/h), forward/backward
2.16~28.31/3.20~9.78
2.35~30.87/3.49~10.66
PTO power (Kw)
18.78
21.85
PTO rotation speed (r/min)
540/720 or 540/1000
Clutch
9-inch, dry, double action
Implement
Three-point linkage category
Rear three-point linkageⅠ
Tilling depth control mode
Draft adjustment, position adjustment
Lifting force(KN)
4.96
5.8
Options
Transmission with creeper gear
4x(2+1)x2
Hydraulic output
2 group
Adjustment mode, rear wheel
Stepless adjustment
Clutch
9-inch, dry, single action
Dimensions, mass, drive
Drive type
4x2
4x2
Overall dimensions (LxWxH)(mm)
3520x1388x2700
3540x1395x2730
Wheelbase(mm)
1700
1700
Min. ground clearance(mm)
338
395
Min. operating mass(with safety stand)(Kg)
1445
1535
Tyre spec., front /rear
5.50-16/11.2-24
5.50-16/11.2-28
Wheel tread, front/rear
1100,1200,1300,1400/1100,1200,1300,1400
Steering
Mechanical
Brake
Disc, mechanical