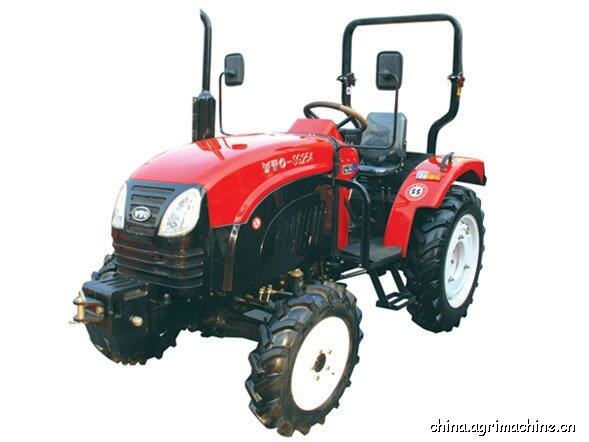 The following are some outstanding features of our 25-30HP wheeled tractor:
Our wheeled tractor is not only functional but also aesthetic.
It has passed the E-mark certification.
The tractor adopts a three cylinder, water cooled, four-stroke diesel engine, which is environment friendly due to its low emission.
Hydraulic steering, coupled with the use of parking handle and OECD anti-turnover bar, helps ensure easy operation and high safety.
High reserve coefficient of the transmission system, dual speed PTO, optional 8+8 or 16+8 gears
Our wheeled tractor is ideal for performing various gardening tasks.
25-30HP Wheeled Tractor Specifications
Model
YTO-SG254
YTO-SG284
YTO-SG304
Diesel engine
Model
KM385BT
ZN390TE
ZN390TE
Type
Three cylinder, vertical, water cooled, four stroke
Displacement (L)
1.532
1.813
1.813
Rated power/speed(Kw)/(r/min)
18.4/2350
20.6/2400
22.1/2400
Max. torque (N.m)/speed (r/min)
86/1680
96.8/1750
102.7/1750
Bore x stroke (mm)
85x90
90x95
90x95
Transmission
Gear shift, forward/backward
8/4
8/4
8/4
Speed range (Km/h), forward/backward
2.07~29.65/2.45~7.84
2.12~30.28/2.50~8.01
2.12~30.28/2.50~8.01
PTO power (Kw)
14.72
16.48
17.65
PTO rotation speed(r/min)
540/720 or 540/1000
540/720 or 540/1000
540/720 or 540/1000
Clutch
8-inch, dry, double action
9-inch, dry, double action
9-inch, dry, double action
Implement
Three-point linkage category
Rear three-point linkageⅠ
Tilling depth control mode
Height adjustment, position adjustment
Lifting force(KN)
4.14
4.64
4.96
Options
Transmission with creeper gear
4x(2+1)x2
Transmission with shuttle device
4x2x2
Hydraulic output
2 group
Dimensions, mass, drive
Drive type
4x4
4x4
4x4
Overall dimensions (LxWxH)(mm)
3405x1440x2240
3490x1450x2240
3490x1450x2240
Wheelbase(mm)
1698
1698
1738
Min. ground clearance(mm)
315
315
325
Min. operating mass(with safety stand)(Kg)
1535
1550
1550
Tyre spec., front /rear
6.00-16/9.5-24
6.00-16/9.5-24
6.00-16/9.5-24
Wheel tread, front/rear
1200/1100,1200,1300,1400
Steering
Full hydraulic
Brake
Disc, mechanical