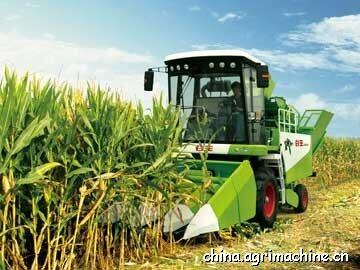 Chery 4YZ-4 Corn Harvester Product Features
Strong Power:
●Equipped with famous CHINA II turbocharged engines, which features energy-saving, environmental procetection and care, strong power and high torque reserve;
●The engine adopts bi-direction power output, and thus the drivetrains of the travel system and the working device are independent of each other, which improves the reliability of each system;
Advanced Technology:
●The clutch is controlled by hard connecting rod, which makes the engagement and disengagement more thorough and more reliable;
●Full hydraulic steering system for flexible and convenient control;
●Left fliping grain box, enhanced drive's visibility and makes unloading a lot easier
●Equip with the 4-wheel brake system which makes it more safe;
●The optimized radiator structure with new type dustproof and maintenance-free cover can effectively avoid high engine temperature;
●Better adjusted conveying chain of the header, offers more reliability.
●It employs steel header cover to prevent the wheat spikes from falling, which is beautiful and practical.
●The chopping device adopts two curve blades + one straight blade in the middle, which has good chopping effect;
●There are optional small 4 line headers or narrow 5 headers for different row space of corns.Efficient Work:
●The transmission has 3+1 gears with stepless speed regulating control. The speed is reasonably matched for improving the work efficiency;
Comfortable Driving:
●The driver's cab is equipped with new type luxurious upholstery and optional air conditioning system for more comfortable driving environment;
●The combination instrument integrated type steering gear: optional sound alarm for oil level, voltage, oil pressure, air filter, engine speed, etc. the operator can learn if the sensors are normal when it is activated, and it is stable and reliable;
●The optimized engine vibration absorption device reduces the vibration and improves the comfort of driving;
●The optimized gear shifting control system improves the convenience for assembly, gear engaging reliability and comfort of operation;
●The optional LCD reversing display improves safety of driving.
Chery 4YZ-4 Corn Harvester Technical Parameters
Model
4YZ-4B
Type
Self-propelled
Picking Mechanism Type
Picking plate + cutting roller
Harvesting Rows
4
Applicable Row Width mm
480~580
Power kW
90.5~92
Engine speed r/min
2400
Theoretical Travel Speed km/h
Ⅰgear 1.55 ~3.45
Ⅱgear 3.43 ~7.61
Ⅲgear 9.25 ~20.51
Reverse gear 3.62 ~8.03
Pure work productivity h㎡/h
0.33~0.58
Grain Tank Volume ㎡
2.5
Stalk Smashing Width mm
2000
Stalk Smashing Blades Combination Type
2 curve blades + 1 straight blade in the middle
Machine Weight kg
4950
Overall Dimensions(L×W×H) mm
6400×2300×3450