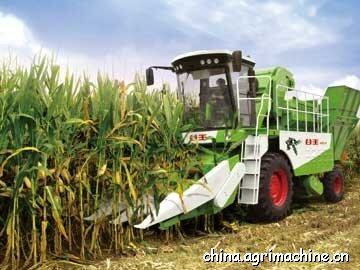 Chery 4YZ-5 Corn Harvester Product Features
High quality:
●High reliability: 300h idling test and 1,200h field test over two years for high reliability verification.
●High efficiency: Equip with WUXI 159hp, YUCHAI 160hp engine, featuring strong power, reliable quality and high working efficiency.
●Beautiful appearance: with leading appearance design, it provides remarkable experience.
High technology:
●The advanced technology of low position small tilt angle: With the advanced technology, it is more suitable for lodged crops and it can prevent the corn cluster from falling to the ground and reduce the loss;
●The secondary elevator has strong conveying capability, which improves the secondary stalk chopping and ensures the cleanness of the cluster with the fan;
●The secondary conveying, the enlarged ground clearance ensures the flexible lifting and lowering of the header;
●The advanced front axle technology: Equip with the advanced 1000 series drive axles, featuring advanced technology, good load bearing capacity, and high reliability. It can achieve the single-side braking, having the multiple advantages such as good adaptability, flexible steering, convenience to maintain and service, and etc.;
●The advanced corn picking technology: The advanced board picking structure features the small damage to the corn, good corn picking effect, high adaptability and high reliability, etc.;
●The advanced peeling technology: Use the tiled peeling roller layout structure, the cluster can be longitudinally conveyed and rolled over, which features good peeling effect and low grain damage rate;
●The advanced stalk mulching technology: Optionally equip with flail blade or hammer claw type stalk mulching machine. The stalk smasher is wider than the row spacing,which ensures good smashing effect. The stalk smasher is installed with roller finder, which can effectively prevent the blade of the smasher from damage due to its contacting with the ground, and thus makes the smasher have extended service lifetime and higher reliability.
●The advanced hydraulic technology: The famous brands of hydraulic parts are used, which features the advanced technology and reliable quality;
Chery 4YZ-5 Corn Harvester Technical Parameters
| | |
| --- | --- |
| Model | 4YZ-5 |
| Harvesting Rows | 5 |
| Row Space mm | 550 |
| Cutting Width mm | 2750 |
| Engine Power kw | 117 |
| Min. Ground Clearance mm | 400 |
| Min. Slewing Radius m | 7 |
| Front/Rear Wheel Track mm | 2000/1950 |
| Pure Work Productivity h㎡/h | 0.5~1.2 |
| Grain Tank Capacity m³ | 4.3 |
| Min. Unloading Height m | 2.1 |
| Total Loss Rate % | ≤4.0 |
| Grain Broken Rate % | ≤1.0 |
| Corn Impurity Rate % | ≤1.5 |
| Bract Peeling Rate % | ≥85 |
| Stalk Smashing Length % | ≤100 |
| Machine Weight (incl. Header) KG | 9100 |
| Overall Dimensions (L×W×H) mm | 9300×3050×3800 |